Bruno Santos: TRIoANGULAR
O guitarrista Bruno Santos acaba de lançar o seu segundo CD para a editora
Tone of a Pitch
:
TRIoANGULAR
.
Neste registo, composto basicamente por temas da autoria de Santos (excepto uma composição de Thelonious Monk, «Think of one», e outra de Mal Waldron, «Soul eyes»), participam Bernardo Moreira (contrabaixo), Bruno Pedroso (bateria) e Pedro Moreira (sax-tenor), este último como convidado especial.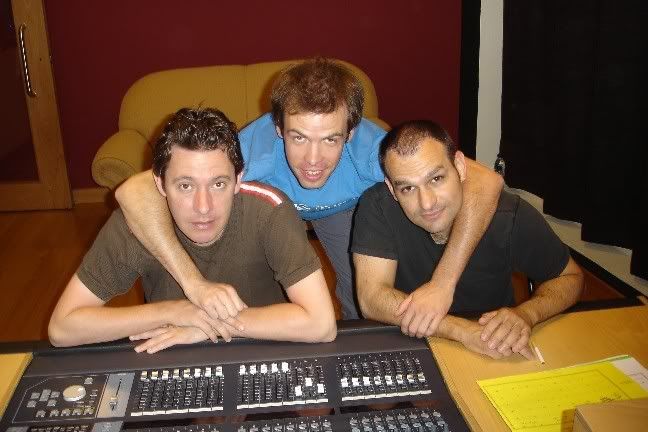 Bruno Santos com Bernardo Moreira e Bruno Pedroso, durante a gravação de TRIoANGULAR.

Este CD é, na nossa opinião, um passo em frente relativamente ao anterior (
Wrong Way
), como seria de esperar e fica desde logo como testemunho de um guitarrista mais maduro e com um projecto mais coeso. Quem pensa que este é um registo apenas de guitarra engana-se, pois
TRIoANGULAR
é sobretudo um CD de jazz em que, naturalmente, a guitarra (límpida e intencional e visivelmente inspirada na tradição de grandes guitarristas como Jim Hall e Wes Montgomery) assume alguma (apenas alguma) preponderância.
A um nível global, é de destacar a boa articulação entre o trio e a notável participação solista de Pedro Moreira.

Temas:

1. Aqui Outra Vez
2. Think of One
3. So Para Ti
4. Glue
5. Hall
6. 343
7. Fydo
8. Submerso
9. Hexagono
10. Soul Eyes
Os leitores interessados em saber mais sobre
Bruno Santos
podem ler a entrevista que com ele realizámos e que aqui publicámos há precisamente um ano.