A tribute to Bill Evans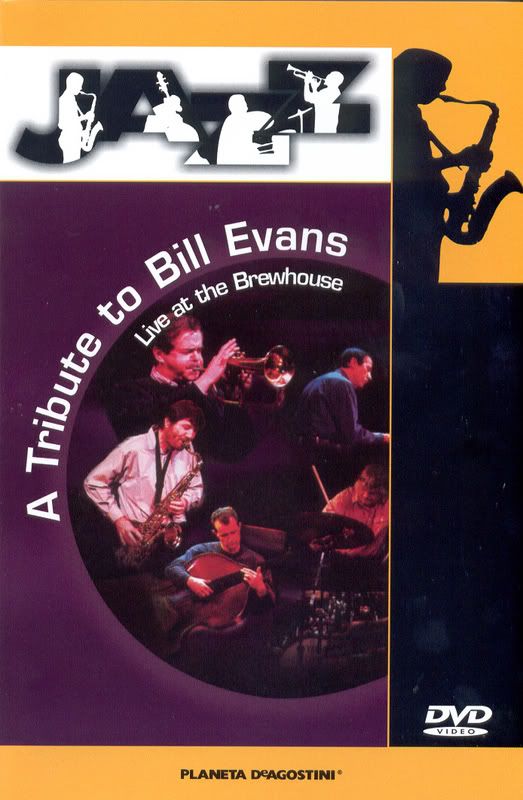 Acaba de sair mais um fascículo da colecção Jazz em DVD:
A tribute to Bill Evans - Live at the Brewhouse
.
O pianista britânico
Gordon Beck
, um confesso adepto de Bill Evans, prestou homenagem a este lendário pianista de jazz (que influenciou músicos como Herbie Hancock, Keith Jarrett, Chick Corea e Brad Mehldau...) num concerto realizado no Brewhouse Theatre, em 1991, para o que contou com a participação de músicos de jazz seus compatriotas e não só, incluindo o trompetista Kenny Wheeler e o baterista Tony Oxley (que chegou a tocar com Bill Evans e que em 2004 actuou no CCB em duo com outro grande pianista de jazz: Cecil Taylor).
Antes de nos alongarmos convém explicitar que Gordon Beck não é um pianista qualquer, como bem o atesta o seu curriculum musical, tendo acompanhado Phil Woods no projecto European Rhythm Machine (com que actuou no I Cascais Jazz, em 1971) e músicos como Lena Horne, Gary Burton, Clark Terry e Charles Tolliver. Quanto a Kenny Wheeler a situação não é diferente. Natural do Canadá, mudou-se para Londres nos anos 50, tendo tocado nas orquestras de John Dankworth e Mike Gibbs Orchestra e com Tony Oxley, Alexander von Schlippenbach, Anthony Braxton e Dave Holland.
No presente DVD, Beck e Wheeler demonstram logo no primeiro tema, "Peri's Scope", as suas elevadas qualidades musicais, com o pianista a destacar-se no acompanhamento e o trompetista a construir uma interessante improvisação.
Outro dos músicos presentes nesta homenagem é o saxofonista
Stan Sulzmann
, que protagoniza um dos momentos altos deste DVD quando dialoga (no saxofone soprano) com Wheeler na introdução do tema "Not the last waltz", um original de Beck, abrindo depois para um solo não menos digno de nota e em que é de realçar a pontuação de Oxley à bateria e o acompanhamento do piano, que quando sola evidencia bem a sua autoridade e consistência.
Dieter Ilg
, um ilustre desconhecido, realiza depois um solo absoluto de contrabaixo baseado fundamentalmente em harmónicas, executado de uma forma que nunca antes víramos neste instrumento, remetendo para o universo sonoro de Jaco Pastorius no baixo eléctrico. Um solo a ver e ouvir, sem dúvida, pela sua complexidade técnica, mas também pelo resultado sonoro. Quanto a Ilg não é de estrahar o seu domínio técnico do contrabaixo, instrumento que estudou com Norbert Brenner ( contrabaixista solista da SWR Orchestra Baden-Baden)
O ponto mais alto deste DVD é para nós a interpretação do clássico "Blue in Green" (tema que integra o repertório do mítico disco
Kind of Blue
, de Miles Davis, e que alimentou uma certa polémica em torno da sua autoria, pretendida tanto por Evans como por Davis), onde Beck não deixa realmente dúvidas quanto às suas capacidades como improvisador e jazzista.
Em solo absoluto exprime-se de igual forma o baterista Tony Oxley, cuja sonoridade final realmente só ouvida... tal o impressionismo (e criatividade, já para não dizer quase misticismo) da sua interpretação de "Combination".
Gostámos também muito da intervenção de Sulzmann em flauta no tema "Orbit" e de Beck no clássico "Waltz for Debby".
Este DVD encontra-se disponível por apenas € 9,99 (mais portes de envio) exclusivamente através do nº de telefone 219 265 510 ou, eventualmente, num quiosque perto de si.