O que é que a Luciana tem?
Como noticíamos aqui de manhã, Luciana Souza estreou-se hoje a cantar Jazz/Bossa Nova em Portugal, com um mini concerto realizado na FNAC do Colombo, onde também se estreou em tempos o então desconhecido Jamie Cullum.
Aí, ao vivo, como sempre sucede com qualquer músico, se puderam melhor avaliar os seus dons e aquilo que afinal os discos desta talentosa vocalista já vêm anunciando desde há alguns anos: que a Luciana tem swing, tem voz, tem arte, tem talento (que foi aliás reconhecido quando em 2005 a Jazz Journalists Association a considerou a melhor vocalista de jazz do ano), musicalidade (afinal estudou no New England Conservatory of Music e lecciona na Berklee e na Manhataan School of Music), um grande à vontade na Bossa Nova e a determinação de inovar e seguir o seu próprio caminho, para além de uma grande simplicidade e humildade.
Com Luciana, afilhada de Hermeto Pascoal (o que diz muito dela e da sua carreira), estiveram em palco o guitarrista Larry Koonse (que tocou com músicos como Bob Brookmeyer, Billy Childs, Terry Gibbs, Cleo Laine, Warne Marsh, Mel Torme e Lee Konitz) e o contrabaixista Matt Aronoff, um antigo aluno da cantora. Além da voz Luciana Souza chamou a si o papel da percussão, usando para tal umas vulgares escovas de bateria e a tampa de uma banal caixa de cartão, no que dava realmente a impressão de ali estar também presente um verdadeiro baterista conhecedor dos ritmos da Bossa Nova.
O concerto focou-se basicamente no repertório do seu mais recente disco -
The New Bossa Nova
- tendo começado por «Here it is», de Leonard Cohen, e passado por temas como «Never die young» (de James Taylor), "Sorriu para mim" (uma canção extraordinária celebrizada por João Gilberto e que Luciana interpretou de forma notável e envolvente), "Down to you" (Joni Mitchell) e "Waters of March" (Jobim).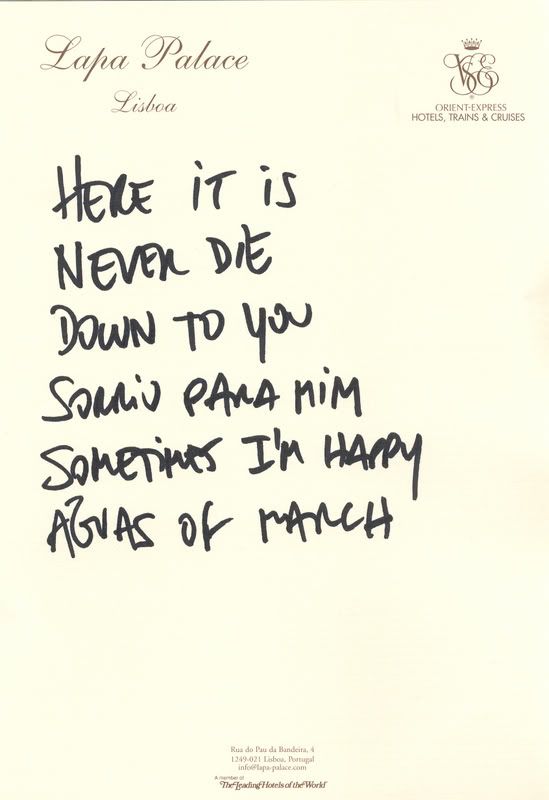 Alinhamento do concerto na FNAC, escrito por Luciana Souza.
NB: O tema «Sometimes I'm happy" acabou por não ser interpretado.
Os leitores interessados em ouvir um pouco a voz de Luciana Souza podem "consultar" o seguinte vídeo, em que a cantora canta poesia de Neruda:



Vai longe, a Luciana Souza, não duvidamos. Ainda mais do que já foi.