Maria Anadon e Victor Zamora no DOSE DUPLA a 5 de Fevereiro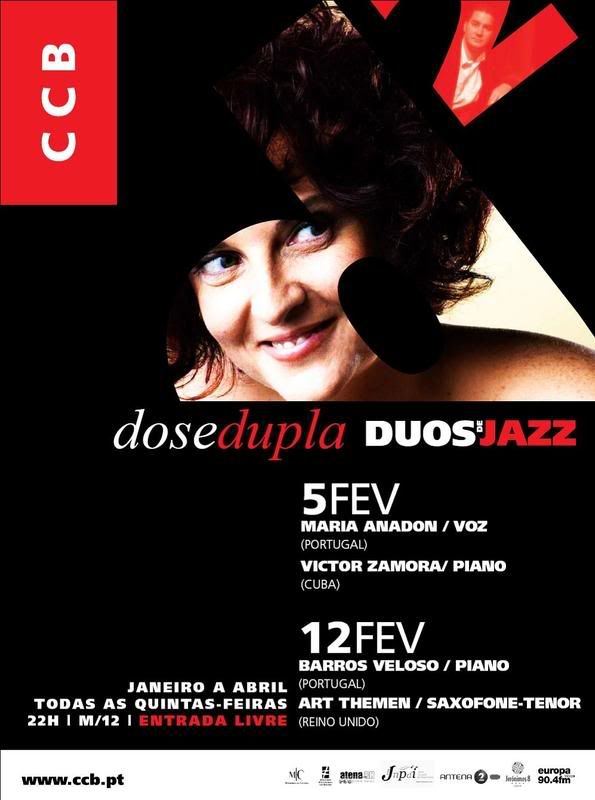 O CCB apresenta a 5 de Fereveiro mais uma DOSE DUPLA de Jazz, desta feita através do duo de Maria Anadon e Victor Zamora. A entrada é livre.
Maria Anadon e Victor Zamora iniciaram um trabalho de conjunto e compromisso em 2003, cruzando desde então as influências do jazz tradicional com os ritmos latinos (Cuba). A aposta deste concerto é, pois, conseguir transmitir ao público outras cores desse mundo vasto que é o jazz, acrescentando um novo sabor aos standards.
MARIA ANADON (voz).
Tem sido acompanhada por músicos e grupos de reconhecido talento – como Unpredictable Nature ou Five Play's, Women of the World – e tem actuado nos Estados Unidos, Japão, Irlanda, Itália e Portugal. Aplaudida pela sua criatividade e intuição musical, que lhe conferem uma capacidade de interpretação excepcional, já lançou três álbuns: Jazzy Way, álbum de originais, Cem Anos e Why Jazz. Nos seus espectáculos, sensualidade, doçura e sofisticação alinham-se numa harmonia perfeita, num misto de elegância e provocação.
VICTOR ZAMORA (piano).
Nasceu em Cuba e foi em Havana que iniciou os seus estudos de música, na Escola Nacional de Artes. Licenciado em piano e composição, participou em diversos festivais de Jazz na Jamaica, Peru e Inglaterra integrado na Orquestra Internacional de Varadero. Em 1998, escolheu Portugal para residir, tendo colaborado, entre outros, com Bruno Pedroso, Guto Lucena, Maria Anadon, Nana Sousa Dias e Jorge Reis. Os seus grupos de salsa são sempre um sucesso de ritmo e força em palco.