Jazz em DVD: Um fascículo a não perder!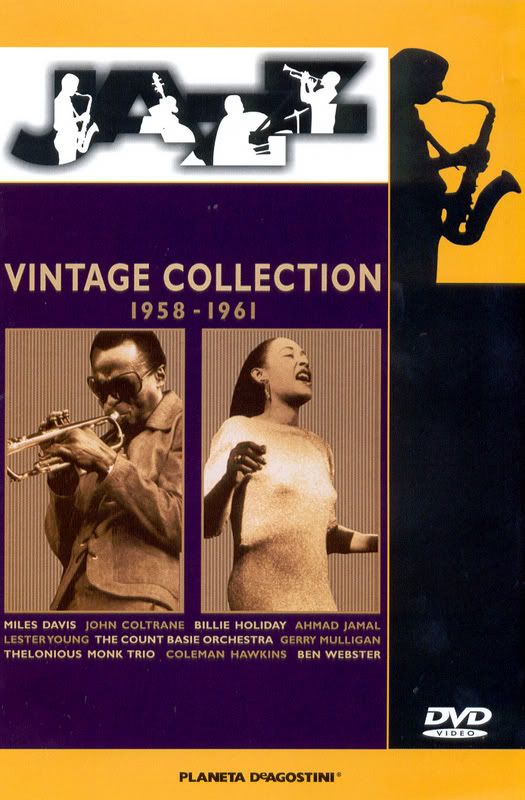 Acaba de sair mais um fascículo da colecção Jazz em DVD (da Planeta Agostini), o qual se traduz numa compilação de algumas das mais interessantes e históricas participações de músicos de jazz em programas de televisão norte-americanos realizados entre 1958 e 1961. Aqui se podem ver e ouvir:
1. The Count Basie Orchestra - The Count's Blues
2. Red Allen Octet - Wild Man Blues
3. Red Allen Octet - Rosetta
4. Thelonious Monk Trio - Blue Monk
5. Jimmy Rushing Sings The Blues - I Left My Baby
6. The Count Basie Orchestra - Dickie's Dream
7. Billy Holiday With Nine - Fine And Mellow
8. Jimmy Giuffre Trio - The Train And The River
9. Ahmad Jamal Trio - Darn That Dream
10. Ahmad Jamal Trio - Ahmad's Blues
11. Ben Webster Sextet - Chelsea Bridge
12. Ben Webster Sextet - Duke's Place
13. Miles Davis Quintet - So What
14. Gil Evans Big Band with Miles Davis Quintet - The Duke and Orchestral Sketches No.1 & No.2
Os documentos mais importantes são as actuações do quinteto de Miles Davis com a orquestra de Gil Evans, o célebre "Fine and Mellow" de Billie Holiday e ainda as gravações de Ahmad Jamal em trio.
Comecemos por Miles Davis. Em 1959 o trompetista foi convidado pela estação de televisão CBS a participar num programa intitulado "The sound of Miles Davis". A gravação deste programa teve lugar entre duas sessões de gravação do mítico disco
Kind of Blue
, e apresenta Miles com John Coltrane, Wynton Kelly, Paul Chambers e Jimmy Cobb, acompanhado por uma orquestra dirigida por Gil Evans. O tema mais relevante e interessante desta sessão é o clássico "So What", aqui gravado no mesmo tempo do original em
Kind of Blue
.
O filme de Billie Holiday é especial pelo menos por duas razões: 1) a sensibilidade com que Billie interpreta o tema; 2) o carácter antológico dos solos individuais dos músicos que a acompanham. De facto, praticamente todos os solos neste vídeo têm algo especial que de certa forma os imortalizou e faz com que os amadores de jazz os conheçam praticamente de cor. A razão para tal está no facto de Billie Holiday ser aqui acompanhada por verdadeiros gigantes do jazz, um all-stars composto por Coleman Hawkins, Ben Webster, Gerry Mulligan, Roy Eldridge, Doc Cheatham, Vic Dickenson, Danny Barker, Milt Hinton e Mal Waldron.
É ainda importante referir a gravação de Ahmad Jamal, registada em 1959, quando o seu trio clássico estava consolidado, com Israel Crosby (contrabaixo) e Vernell Fournier (bateria), e tinham decorrido apenas escassos meses do registo do seu disco histórico
Ahmad Jamal at the Pershing: But Not for Me
.
Finalmente, refira-se o trio de Thelonious Monk e repare-se na presença de Count Basie, que observa atentamente Monk enquanto este toca, o que muito o irritou, conforme confidenciaria mais tarde.
Este DVD encontra-se disponível por apenas € 9,99 (mais portes de envio) exclusivamente através do nº de telefone 219 265 510 ou, eventualmente, num quiosque perto de si.