Jamie "Hobbit" Cullum no Freeport
[
Foto: João Moreira dos Santos
]
A grande voz do jovem e pequeno Jamie Cullum levou ontem os seus fans ao rubro, num grande concerto realizado pelo Freeport de Alcochete.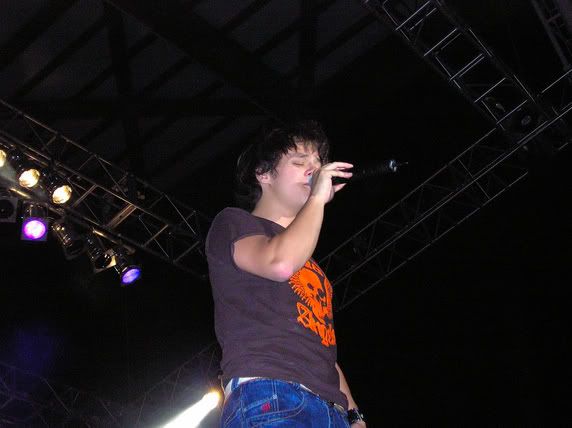 [
Foto: João Moreira dos Santos
]
E deste concerto podem tirar-se desde já algumas conclusões. Primeira, o auditório de Cullum é maioritariamente muito jovem, essencialmente feminino, conhece as suas músicas de cor e é movido em grande parte pelo seu aspecto físico, o que levou algumas jovens que se encontravam à beira do palco a gritar piropos como "És mesmo bom!", algo impensável no actual panorama do jazz (embora não no passado). Segunda, Cullum tende cada vez mais para o pop/rock com um fundo jazzy, interessando-se pela composição e por uma batida mais forte. É exemplo disto a interpretação de "Light My Fire", dos The Doors. Terceira, Cullum tem tudo para se tornar rapidamente numa referência da música britânica e para conquistar adeptos um pouco por todo o mundo. Quarta, o Freeport aposta realmente na música, o que é visível não só pelos artistas de nome que contrata, mas também por todas as infraestruturas que montou, desde os bastidores ao palco em si, o que é um óptimo sinal para a animação cultura do Concelho em que se insere e um bom exemplo de um casamento feliz entre o comércio das grandes superfícies e a cultura.
A prova de ser esta uma aposta bem sucedida foi a casa cheia que recebeu Cullum.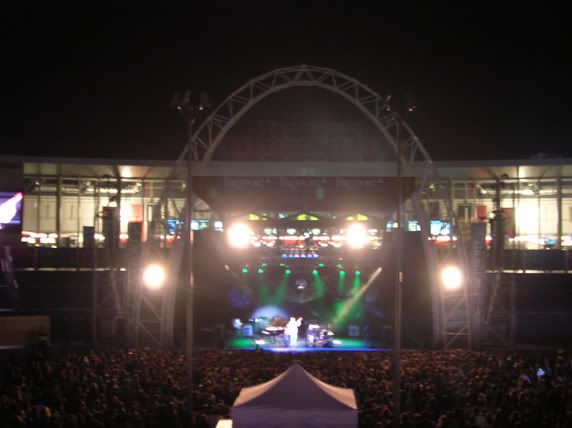 [
Foto: João Moreira dos Santos
]
Quanto ao concerto em si percorreu praticamente todo o album
Twenty Something
(que já vendeu mais de dois milhões de cópias!), com êxitos como "What a difference a day made", "These are the days", "Singin' in the rain", "I Could have danced all night" ou a bela balada "Blame it on my youth". So faltou mesmo outra balada essencial, a emotiva "But for now". Em compensação foi possível ouvir "21st Century Kid", um interessante tema que integra o próximo CD do cantor (cuja gravação teve início no passado 18 de Abril) e que aborda a relação dos eleitores com a política e a necessidade da sua participação cívica e responsabilização.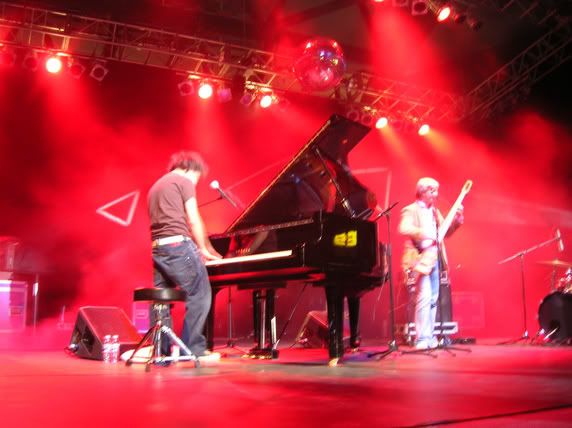 [
Foto: João Moreira dos Santos
]
Acompanhado pelos seus músicos habituais, Geoff Gascoyne (no contrabaixo) e Sebastian de Krom, na bateria, Cullum voltou a mostrar-se irreverente em palco, o que é já uma assinatura do seu estilo, percutindo o piano com as mãos e mesmo com o banco do piano, fazendo piruetas e terminando invariavelmente de pé em cima do piano. Foi aí, de pé, que se notou a sua estatura de quase Hobitt, mas um Hobitt muito simpático e divertido.
O final do espectáculo confirmaria a necessidade que Cullum tem de surpreender e de se tornar próximo da audiência, com o cantor a descer do palco para o meio do público, a qual percorreu a cantar, passando pelas várias filas que os presentes formavam. Sem que tal seja propriamente inovador, já que outros músicos que por cá actuaram o fizeram anteriormente (como, por exemplo, Paul Gonsalves ou o bluesman Lucky Peterson), a verdade é que não é propriamente habitual esta convivência tão próxima entre artistas e público, pelo que acaba sempre por resultar em cheio.
Uma palavra final para testemunhar as excelentes codições do palco fixo criado pelo Freeport e o cuidado que este espaço comercial colocou na decoração do backstage, onde não falta sequer uma alusão ao jazz.
[
Foto: João Moreira dos Santos
]
Segue-se George Benson, a 28 de Julho.
JNPDI! faz votos de que o Freeport continue a contemplar o jazz ou o smoothjazz na sua programação.