Sara Serpa apresentou Praia no Hot Clube
Foto: JNPDI/JMS
JNPDI! esteve ontem no Hot Clube de Portugal para testemunhar a apresentação de
Praia
, o primeiro CD da jovem e promissora
Sara Serpa
.
Em palco, para co-criar a sua música, a cantora teve um grupo que deu provas da sua excelência e coesão: João Paulo (piano), André Matos (guitarra), Demian Cabaud (contrabaixo) e João Lobo (bateria). É sempre com regozijo e orgulho que reforçamos a nossa tese de que Portugal tem neste momento uma nova "geração de ouro" de músicos de Jazz apta a suceder à igualmente "dourada" que a antecedeu.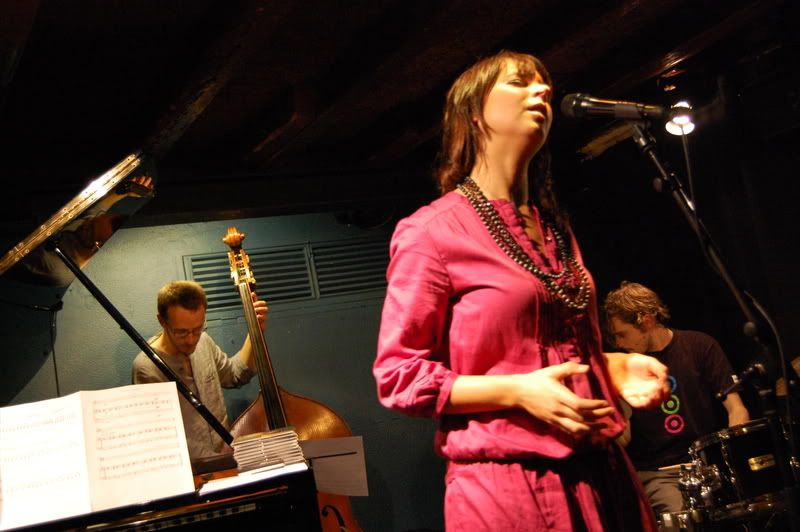 Fotos: JNPDI/JMS
Actualmente a viver em Boston, nos EUA, Sara Serpa tem conhecido sucesso além portas, o que está bem patente nas recensões críticas que o seu trabalho tem recebido em prestigiados meios de comunicação norte-americanos: "She's unique beyond words" (
Boston Globe
), "A bright young Portuguese singer" (
New York Times
), "Serpa is a phenomen" (
All About Jazz
).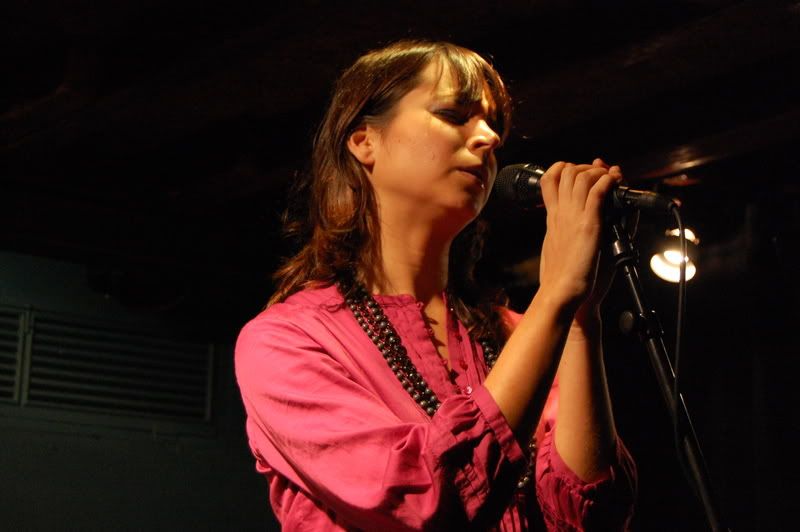 Foto: JNPDI/JMS
Para esta Alfacinha de gema, tudo começou, porém, em Portugal, onde estudou no Conservatório Nacional, primeiramente, e no Hot Clube. Só depois veio o passo lógico: a ida para os EUA para estudar na afamada Berklee College of Music. Seguiu-se o New England Conservatory, onde no ano passado se diplomou em Jazz Performance, tendo estudado com Danilo Perez, Ran Blake, Dominique Eade, Theo Bleckmann, Hal Crook e Jerry Bergonzi.
Foto: JNPDI/JMS
Sara Serpa fez recentemente história no jazz português ao ter sido a primeira cantora e instrumentista nacional a actuar no célebre clube Village Vanguard, em Nova Iorque. Esse passo ficou a dever-se a ter sido convidada a integrar o combo do saxofonista Greg Osby (que a descobriu no seu Myspace... prova de que as novas tecnologias podem realmente ampliar horizontes, dúvidas ainda houvesse), com o qual participou recentemente no CD
9 Levels
. Sobre Sara Serpa, afirmou Osby, visivelmente impressionado: "She possesses a vocal flexibility and dexterity unlike any that I've witnessed in an alarmingly long time".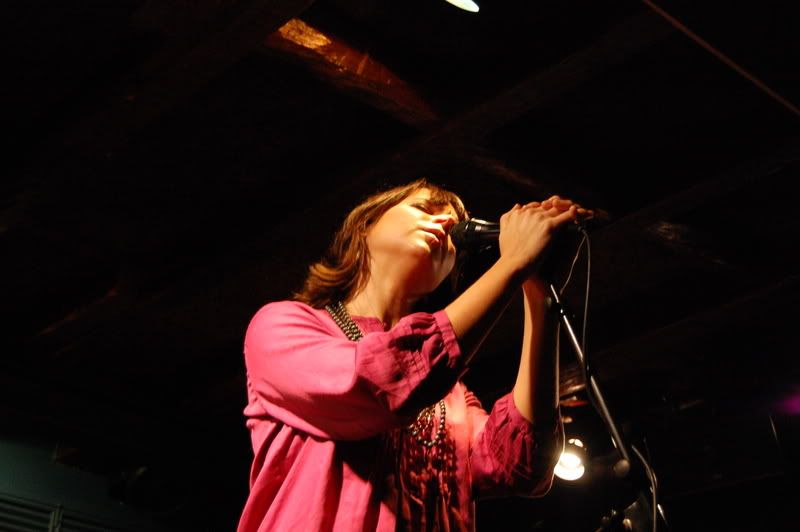 Foto: JNPDI/JMS
Relativamente a
Praia
, este é um trabalho ousado e original (que dispensa praticamente as palavras em benefício da voz como instrumento puro, que se combina em uníssono com a guitarra na exposição das melodias) e que vale a pena ouvir. A sua origem situa-se na vontade de Sara Serpa narrar o que têm sido a sua vida e o seu trabalho em Boston nestes últimos anos e, sobretudo, de se posicionar como uma instrumentista em pé de igualdade com os demais membros de um combo.
Este é sobretudo um registo que revela o início da exploração do elevando potencial criador de uma cantora que pode ir bem longe, mais ainda do que já foi. Por isso mesmo, o que é audível neste momento é apenas a ponta do que se adivinha ser um grande iceberg de talento.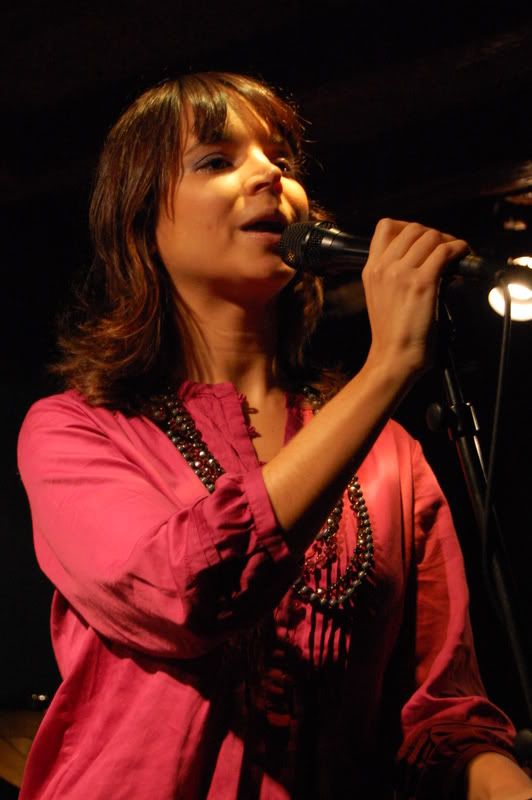 Foto: JNPDI/JMS
Uma coisa é certa (aliás, duas): Sara Serpa tem o que é necessário para o trazer gradualmente à superfície e está muito bem acompanhada pela guitarra de André Matos, que mais uma vez demonstrou no Hot Clube por que em nossa opinião (e não só) pode ser considerado um dos grandes guitarristas portugueses da actualidade, surpreendendo-nos com o seu fraseado e sonoridade, onde se adivinha já o despontar daquilo que qualquer instrumenstista mais ambiciona: uma voz própria e inconfundível.
Foto: JNPDI/JMS