André Matos apresenta «Pequenos Mundos» no Olga Cadaval
O guitarrista André Matos apresenta o seu primeiro álbum de originais, editado pela Fresh Sound New Talent, num concerto no Centro Cultural Olga Cadaval, em Sintra, no próximo dia 9 de Junho.
"Pequenos Mundos" dá-nos a conhecer uma série de elegantes composições de jazz, que nos revelam por vezes algumas raízes lusas, com melodias fortes e harmonias simples.
André Matos é o segundo português editado pela Fresh Sound New Talent, a qual tem apresentado nomes importantes do jazz que emergiram na última década, tais como Mark Turner, Perico Sambeat, Kurt Rosenwinkel ou Brad Mehldau.
Em "Pequenos Mundos", André Matos apresenta um conjunto de originais e conta ainda com temas do contrabaixista Damian Cabaud, com o qual se apresentou ao vivo na 3ª Festa do Jazz do São Luiz:
1. Surrealistic Cous-cous (A.Matos) 2:36
2. Por Outras Palavras (A.Matos) 7:33
3. Pequenos Mundos (A.Matos) 8:15
4. Transatlantic Affair (A.Matos) 9:18
5. Uncle John (A.Matos) 8:44
6. Los Pasos Perdidos (D.Cabaud) 6:38
7. Spirit of Change (A.Matos) 7:54
Bolseiro da Berklee College of Music, em Boston, André acabou em 2003 a sua licenciatura em ´Performance´, com distinção.
O quinteto que vai actuar em Sintra inclui o norte-americano Nathan Blehar, no saxofone tenor, os argentinos Leo Genovese, piano, e Demian Cabaud, contrabaixo, e o português Bruno Pedroso, na bateria.
Os três primeiros acompanharam a estadia de André Matos no Berklee College of Music: «tocámos muito juntos e desenvolvemos uma forte amizade e uma grande cumplicidade musical», diz André.
André Matos, guitarra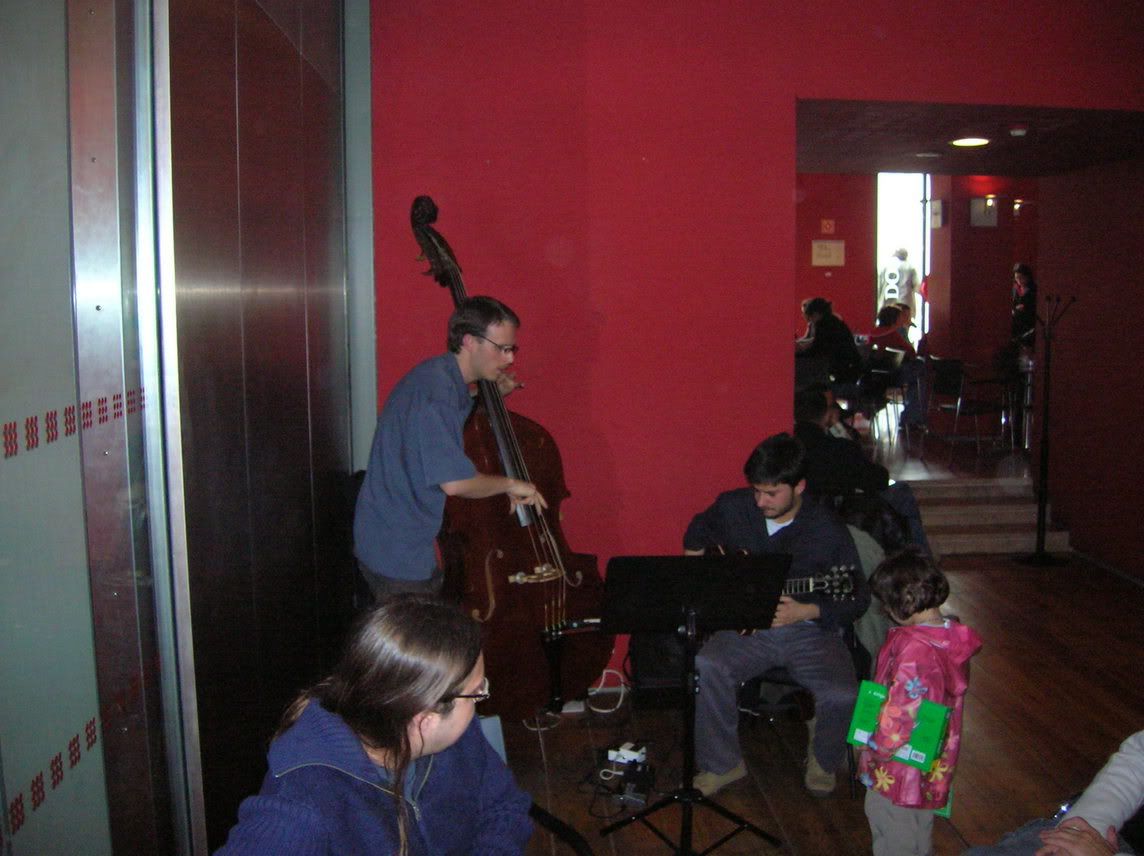 [André Matos e Damian Cabaud na 3.ª Festa do Jazz do São Luiz]
André Matos tem 23 anos e toca guitarra desde os 9. Depois de ter estudado no Hot Clube de Portugal, com Mário Delgado, entre 1999 e 2000, recebeu uma bolsa que lhe permitiu mudar-se para Boston, e estudar na Berklee College of Music.
Nessa escola foi reconhecido entre os melhores performers com a William Leavitt Memorial Scholarship. Graduou-se em performance em Dezembro de 2003, com a distinção Magna Cum Laude.
Teve educação formal ou informal com Mick Goodrick, Ed Tomassi, Pat Metheny, George Garzone, Hal Crook, Dave Santoro, Joe Lovano, Rakalam Bob Moses, Rick Peckam e Jon Damian entre outros.
A sua experiência como performer inclui pequenos festivais nos EUA, uma passagem por Londres e, em Portugal, várias actuações no Hot Clube de Portugal e nos clubes de jazz mais conhecidos, CCB, Casa Fernando Pessoa, entre outros lugares.
Neste momento lecciona na Escola de Jazz do Barreiro, assim como particularmente.
Tem tocado com músicos nacionais e internacionais importantes, que incluem, Jorge Reis, Nelson Cascais, Bruno Pedroso, João Moreira, Afonso Pais, Demian Cabaud, Jesse Chandler, Walter Smith, Nathan Blehar, Phil Grenadier, Leo Genovese, Ziv Ravitz, David Doruzka, Luques Curtis, Warren Wolf, James Williams, Plume, Gonçalo Marques.
Reside em Sintra de onde é natural.
Nathan Blehar, saxofone tenor
Nathan Blehar (EUA) formou-se no New England Conservatory, onde estudou com Jerry Bergonzi e Danilo Perez, entre outros. Actua regularmente em Boston com a sua banda de rock "Planet Earth". Vive em Ahmerst, Massachussets.
Leo Genovese, piano
Leo Genovese nasceu em Venado Tuerto, Argentina. Terminou os seus estudos no Berklee College of Music. Actua frequentemente na zona de Boston, com músicos de créditos firmados, tais como George Garzone, Bob Gulotti, Hal Crook, Joe Lovano, entre outros. O seu último trabalho chama-se "Haikus II" e é editado pela Fresh Sound Records.
Demian Cabaud, contrabaixo
Demian Cabaud é natural de Buenos Aires, Argentina. Estudou com Hernan Merlo, mestre contrabaixista argentino. Graduou-se no Berklee College of Music, onde estudou com John Lockwood e Wit Brown, entre outros. Fez parte da secção rítmica num vídeo educacional de Joe Lovano. Actuou nos festivais de Lichfield e Monterey (CA) e nos clubes Yoshi´s e Blue Note Jazz Club (NY). Actualmente vive em Lisboa e tem actuado com os músicos mais proeminentes da cena jazzística portuguesa, tais como João Moreira, Jorge Reis, Alexandre Frazão, Nuno Ferreira, Mário Delgado, Afonso Pais, entre outros. É neste momento o baixista da Orquestra de Jazz de Matosinhos, que tem actuado com solistas como Mark Turner, Chris Cheek ou Rich Perry.
Bruno Pedroso, bateria
O português Bruno Pedroso conta com uma vasta experiência, não só no jazz como também na música popular com colaborações com os Resistência, Jorge Palma, Paulo Gonzo entre outros. Tem vindo a actuar na área do jazz com Carlos Martins, Pedro Madaleno, André Fernandes, Laurent Filipe, Carlos Barretto, Maria João, Rick Margitza, Aaron Goldberg. Vive em Sintra.