Peter Bernstein em Portugal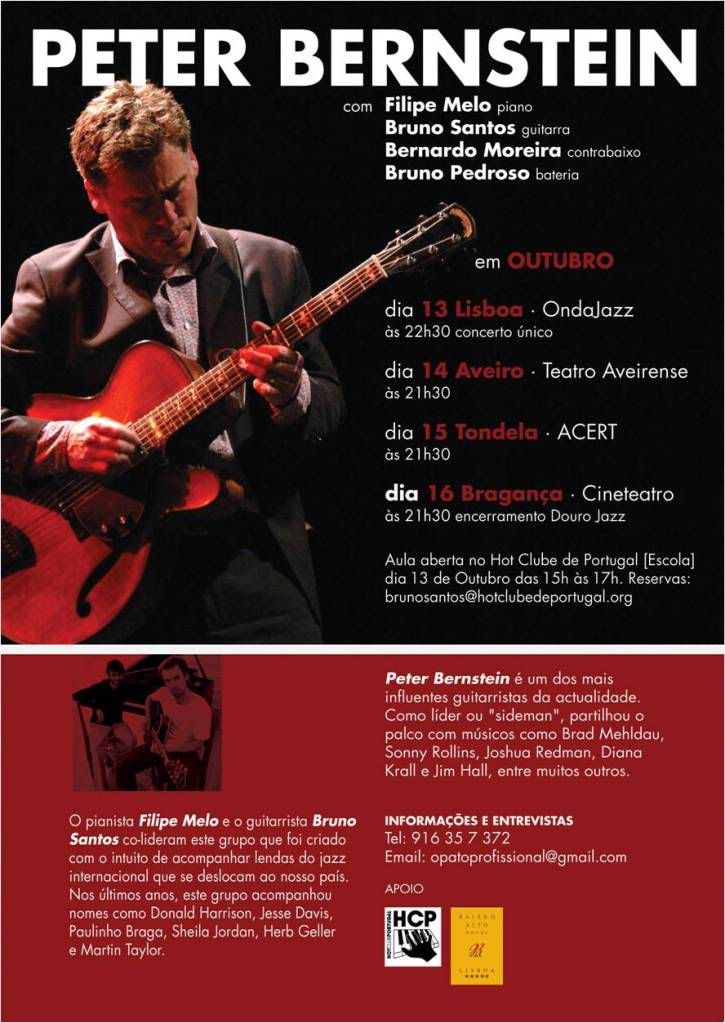 Peter Bernstein,um dos maiores guitarristas da actualidade, apresenta quatro concertos inéditos em Portugal, acompanhado por Santos/Melo Quartet, nas seguintes datas:

[13 Out] Lisboa – OndaJazz, às 22h30 concerto único
Aula aberta no Hot Clube de Portugal (Escola) dia 13 de Outubro das 15h00 às 17h.

[14 Out] Aveiro – Teatro Aveirense, às 21h30

[15 Out] Tondela – ACERT, às 21h30

[16 Out] Bragança – Cineteatro, às 21h20 encerramento Douro Jazz

Peter Bernstein é um dos mais influentes guitarristas da actualidade. Como líder ou "sideman", partilhou o palco com músicos como Brad Mehldau, Sonny Rollins, Joshua Redman, Diana Krall e Jim Hall, entre muitos outros.



O Santos/Melo Quartet é formado pelo pianista Filipe Melo e o guitarrista Bruno Santos, criado com o intuito de acompanhar lendas do jazz internacional que se deslocam ao nosso país. Nos últimos anos, este grupo acompanhou nomes como Donald Harrison, Jesse Davis, Paulinho Braga, Sheila Jordan & Herb Geller (ambos por iniciativa deste blogue) e Martin Taylor.

Ficha Artística:

Peter Bernstein- Guitarra
Filipe Melo (piano)
Bruno Santos (guitarra)
Bernardo Moreira (contrabaixo)
Bruno Pedroso (bateria)

A não perder!




Peter Bernstein: guitarra



O premiado guitarrista Peter Bernstein, tem tocado na cena Jazz nova-iorquina por mais de uma década. Com apenas 31 anos estabeleceu-se não apenas como um líder consagrado, mas também como um acompanhador de excelência e compositor talentoso.

Peter Bernstein começou os seus estudos de piano aos 8 anos e aos 13 anos já começara a tocar guitarra, estudando por si e tocando de ouvido. Desde sempre um músico empenhado e diligente, compondo as suas próprias melodias, ainda nos tempos de liceu compôs para várias espectáculos. Estudou música jazz na Rutgers University tendo como professores mais influentes Ted Dunbar e Kenny Barton.

Sendo também diplomado na The New School em Nova Iorque, teve oportunidade de estudar com Jim Hall, que veio a tornar-se um dos seus mentores mais influentes. Em 1990, Jim Hall convida Peter para se juntar a ele para um concerto no JVC Festival. Desta colaboração resultou uma gravação para a editora Music Masters e a oportunidade de continuarem a tocar juntos em muitas outras ocasiões, incluindo uma tour pela Europa, em 1994.

Peter Bernstein já integrou numerosas formações com músicos notáveis do Jazz, tanto em estúdio como ao vivo. Como músico acompanhador a sua discografia ultrapassa os 30 discos e já trabalhou com Joshua Redman, Lou Donaldson, Jim Hall, Tom Harrell, Joe Lovano, Roy Hargrove, Larry Goldings, Maceo Parker, Javon Jackson, Lee Konitz, Walt Weiskopf, Jack McDuff, Charles Earland, Dr. Lonnie Smith e Eric Alexander outros. Até à data, Peter conta já com 4 discos gravados em nome próprio, nos quais figuram, entre outros, Jimmy Cobb, Greg Hutchinson, Brad Mehldau, Larry Goldings, Blly Drummond, e Bill Stewart.

Peter Bernstein ficou conhecido pelo seu estilo melódico, espírito bluesy e som caloroso. O seu estilo é influenciado por grandes mestres como Wes Montgomery, Grant Green, Kenny Burrell, Charlie Christian e Jim Hall. Actualmente, Peter é simultâneamente membro de formações como Jimmy Cobb's Mob, the Lou Donaldson Quartet, The Melvin Rhyne Trio, e um trio com Larry Goldings e Bill Stewart e toca frequentemente nos mais importantes festivais de Jazz.




Filipe Melo: piano



Filipe Melo optou por se dedicar ao piano aos 15 anos, ficando desde cedo interessado no jazz e na improvisação. Desde então, a sua vida é dedicada à música e ao cinema, tendo tocado com a maioria dos músicos de jazz portugueses. Estudou no Hot Clube de Portugal e no Berklee College of Music em Boston. Foi vencedor do prémio Villas-Boas e do prémio revelação do site JazzPortugal em 2001.

É também professor e arranjador, tendo trabalhado ou tocado com músicos e grupos como Donald Harrison Jr., Jesse Davis, Sheila Jordan, Paulinho Braga, Swingle Singers, Martin Taylor, Perico Sambeat, Herb Geller, Orquestra de Jazz do Hotclube, Orquestra Metropolitana, entre muitos outros. Conta com mais de 12 discos gravados, entre trabalhos como líder e colaborações.

Actualmente, é membro da direcção do Hot Clube de Portugal. Ensina Piano e Harmonia na Universidade de Évora e na Universidade Lusíada e mantém a agenda ocupada a tocar com diferentes grupos e a preparar novos projectos em várias áreas.




Bruno Santos: guitarra



Bruno Santos inicia os seus estudos musicais aos 17 anos ainda residente no Funchal. Aos 19 anos passa a residir em Faro onde frequenta o Conservatório de Faro e paralelamente tem aulas particulares com Zé Eduardo, contrabaixista e antigo director da escola do Hot Clube de Portugal. Ingressa no Hot Clube de Portugal em Fevereiro de 1998. Actua regularmente em vários clubes. Participou em vários festivais de Jazz, tais como: Coimbra, Évora, Tomar, Funchal, Angra do Heroísmo, Sevilha, Festa do Jazz (São Luiz), entre outros. Em Fevereiro de 2000 começa a dar aulas no HCP, onde ainda se mantém com o cargo de director pedagógico.



NB: Textos cedidos pela produção dos concertos.