Esperanza Spalding no CCB em Fevereiro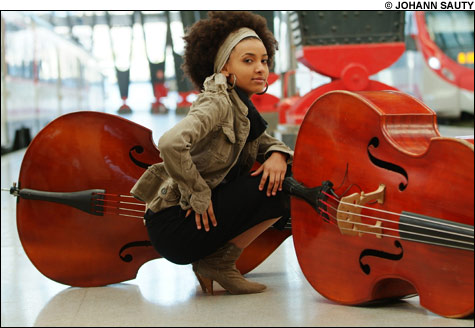 Esperanza Spalding, contrabaixista e cantora - que tanto tem dado que falar nos últimos meses na imprensa internacional do jazz, tanto pelo seu talento, como pelo facto de contar apenas 24 anos - actua no próximo dia 1 de Fevereiro no Grande Auditório do Centro Cultural de Belém.
Natural de Portland, no Oregon, interessou-se pela música aos 4 anos na sequência da audição do violoncelista clássico Yo Yo Ma num programa de televisão (e ainda dizem por cá que a televisão não educa...) e um ano depois já tocava violino de forma autodidáctica, o que lhe permitiu obter um lugar na The Chamber Music Society of Oregon, uma orquestra comunitária que incluía tanto crianças como adultos. Aí passou 10 anos, mas paralelamente contactava com os blues blues, funk, hip-hop e outras músicas que ouvia no circuito dos clubes.
Aos 16 anos, Spalding entrou na Portland State University com o apoio de uma generosa bolsa de estudo, sendo a mais jovem estudante de contrabaixo, instrumento que já tocava desde os 14. Seguiu-se o Berklee College of Music, onde aprendeu e veio também a ensinar. Em 2005, com apenas 20 anos, tornava-se a mais jovem professora desta prestigiada escola de Boston.
Os anos passados em Boston e na Costa Leste trouxeram-lhe igualmente a oportunidade de tocar com músicos como Michel Camilo, Stanley Clarke, Pat Metheny, Patti Austin, Donald Harrison e Joe Lovano.
Em 2008, Esperanza Spalding viu incidirem sobre si as luzes da ribalta, tendo sido amplamente noticiada em revistas como a
Downbeat
e
JazzTimes
.
Em Portugal, Esperanza Spalding actua com o seu quarteto, composto por Leo Genovese (piano), Ricardo Vogt (viola) e Otis Brown (bateria).
Restam poucas dúvidas de que Esperanza Spalding vai longe e ainda nos vai deliciar com muitos e interessantes projectos. É que para além dos conhecimentos musicais, tem também uma peculiar experiência de vida que certamente a vai influenciar e inspirar, podendo levar o jazz a uma nova dimensão social.