Um Oscar para Oscar Peterson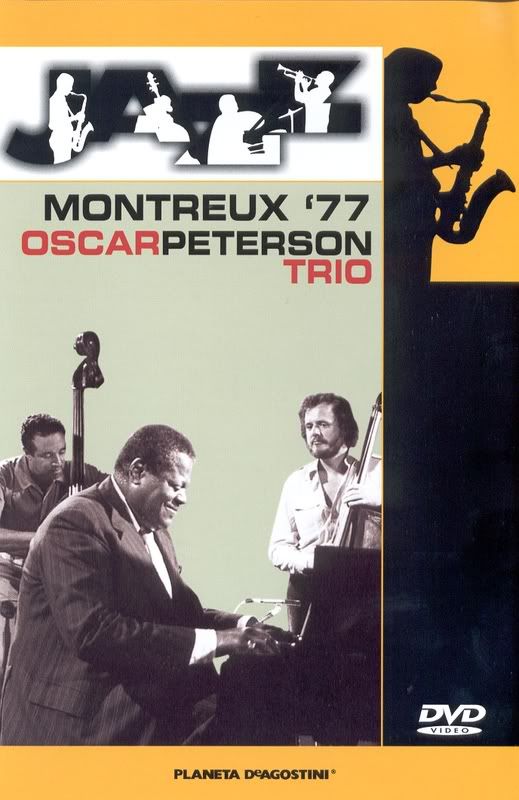 Acaba de sair mais um volume da colecção Jazz em DVD, desta feita centrado no concerto que Oscar Peterson realizou em trio no Festival de Jazz de Montreux, em 1977.
Este não é, porém, um trio normal, já que Peterson escolheu para este concerto dois contrabaixistas, nada menos do que Ray Brown e Niels-Henning Ørsted Pedersen.
O DVD abre com Peterson a solo, em "Falling in love with love", mostrando como este pianista foi dos poucos dignos sucessores de Art Tatum em termos técnicos, tal o seu virtuosismo. Se o ouvido desatento pode julgar estar em preseça de um trio, com piano, contrabaixo e bateria, na verdade a audição mais atenta concluirá que todas estas sonoridades saem apenas das mãos de Peterson.
O que sucede nos temas seguintes é puro jazz e deleite musical, com Pedersen e Brown a substituirem-se no acompanhamento, sem dar margens a que o público sinta de facto a transição dentro do mesmo tema. Esta cadência acaba por resultar também a nível estético, permitindo antever como que um "duelo" entre os dois contrabaixistas.
Obviamente, é Oscar Peterson quem se destaca neste DVD, com uma excelente captação sonora, que permite de facto vivenciar o que se passou musicalmente em Montreux em 1977, ou seja, há precisamente 30 anos.
Temas:
Falling in love with love
Old folks
Indiana
There is no greater love
You look good to me
People
Reunion Blues
Teach me tonight
Sweet Georgia Brown
Este DVD encontra-se disponível por apenas € 9,99 (mais portes de envio) exclusivamente através do nº de telefone 219 265 510 ou, eventualmente, num quiosque perto de si.