John Abercrombie e Marc Copland sexta-feira no CCB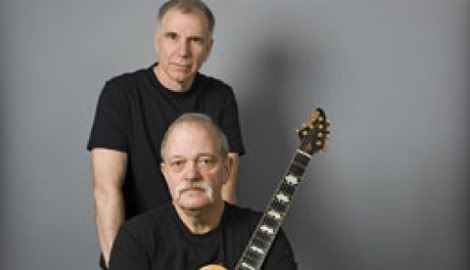 O pianista Marc Copland e o histórico guitarrista John Abercrombie (que tem uma ligação especial e longa com Portugal) encontram-se em palco, no grande auditório do Centro Cultural de Belém, já na próxima sexta-feira, 23 de Setembro, às 21h00.



As carreiras de John Abercrombie e Marc Copland cruzaram-se cedo e com muita frequência. No início dos anos 70 eram os jovens leões na banda Chico Hamilton, e ambos tiveram participações em Dreams, o nome original da lendária banda Brecker Brothers. Posteriormente, juntaram-se para colaborar com diversos ensembles: Second Look (Savoy), That's for Sure e Brand New (Challenge), And (Hatology), e mais recentemente Another Place e Five on One (Pirouet).

Já não se ouvia um guitarrista e um pianista deste nível desde o lendário duo de Bill Evans e Jim Hall, ambos reconhecidos pela inovação na harmonia e únicos nos seus respetivos instrumentos, juntaram forças para criar um duo, uma união sem paralelo.

A etiqueta Pirouet Records lançou recentemente uma nova gravação destes dois músicos: Speak to Me é o primeiro CD de um duo que já existe há algum tempo.
As gravações com o pianista Marc Copland e o guitarrista John Abercrombie são um bom exemplo da arte de comunicar praticada ao mais alto nível, um caso típico de serenidade.

O encontro musical destes dois mestres do jazz contemporâneo é uma experiência sem precedentes, só comparável à delicadeza da música de câmara. Cada peça reflete uma variedade de tons e significados, formando ligeiras vibrações sonoras de uma efemeridade habilidosa. É assim a música de dois dos mais conceituados intérpretes do jazz.



Texto fornecido pelo CCB.