Marilena Paradisi e João Maurílio quinta-feira no DOSE DUPLA
Na próxima quinta-feira, 19 de Março, há nova DOSE DUPLA no CCB, às 22h00, sempre com entrada livre.
Sendo a primeira vez que João Maurílio (piano) e Marilena Paradisi (voz) - considerada próxima do estilo de Betty Carter - partilham o mesmo palco, espera-se deste concerto a frescura de um primeiro encontro e, muito especialmente, de uma jam-session entre dois intérpretes experientes que dominam a linguagem comum dos grandes clássicos do jazz e que se inspiram mutuamente.

Tudo pode, pois, acontecer…
MARILENA PARADISI (voz).
Considerada uma referência entre as vozes do Jazz em Itália, nasceu em Roma e estudou canto e piano com Michiko Hirayama. Enquanto cantora de Jazz estudou com Bob Stoloff, Mark Murphy, Barry Harris e Sheila Jordan. Com o lançamento do seu primeiro CD, I'll never be the same, editado em 2002, vem ganhando reconhecimento internacional como cantora e compositora com grande sucesso junto da crítica e do público em Itália, nos EUA e em França. O seu segundo CD, Intimate Conversation, é uma conversa entre a sua voz e o contrabaixo de Pietro Leveratto.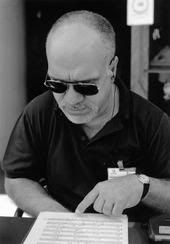 JOÃO MAURÍLIO (piano). Nasceu no Funchal, cresceu em Moçambique e radicou-se no Estoril em 1976, tendo tocado e gravado com músicos como Carlos Barreto, Bernardo Moreira, Laurent Filipe, João Moreira, Carlos Martins, Pedro Moreira, Zé Eduardo, Maria Viana, Paula Oliveira, Alice Day, Yann Parker e Yana Purim, e em 2004 acompanhou o saxofonista tenor David Schnitter nos seus quatro concertos em Portugal. Pertenceu durante dez anos (91/01) ao corpo docente da Escola do Hot Clube, leccionando actualmente na Escola de Jazz do Barreiro e na Musicland.