Milt Hinton retratado em livro

A vida e obra de
Milt Hinton
(1910-2000), que além de histórico e proeminente contrabaixista foi também fotógrafo, é revisitada num livro que acaba de ser editado nos EUA.
Playing the Changes: Milt Hinton's Life in Stories and Photographs
, tem introdução de Clint Eastwood e traça a carreira daquele que é considerado um dos músicos mais gravados na história do Jazz, tendo tocado e gravado, entre muitos outros, com Freddie Keppard, Jabbo Smiths, Eddie South, Fate Marable, Zutty Singleton, Cab Calloway, Billie Holiday, Count Basie, Duke Ellington ou Louis Armstrong.
A esta crónica acrescem ainda a publicação de 260 fotografias da sua autoria (onde se incluem imagens com os grandes nomes do jazz, como é o caso de Billie Holiday ou Dizzy Gillespie), hobbie que manteve desde os anos 20 até à sua morte (resultando num total de 35 000 negativos...), e a edição de um CD com música e entrevistas a este músico.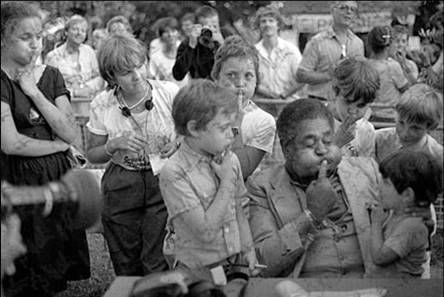 Gillespie fotografado por Milt Hinton em França (1981)
Se ficou curioso sobre a figura lendária que foi Milt Hinton... veja e ouça o próprio cantar a sua carreira:
O próximo vídeo dá um excelente contributo a quem deseja apreciar a técnica e musicalidade de Hinton.
E agora uma gravação histórica com este histórico músico e outros igualmente históricos... O tema é "Fine and Mellow".